Blog Post
The best herbs for skincare and how to use them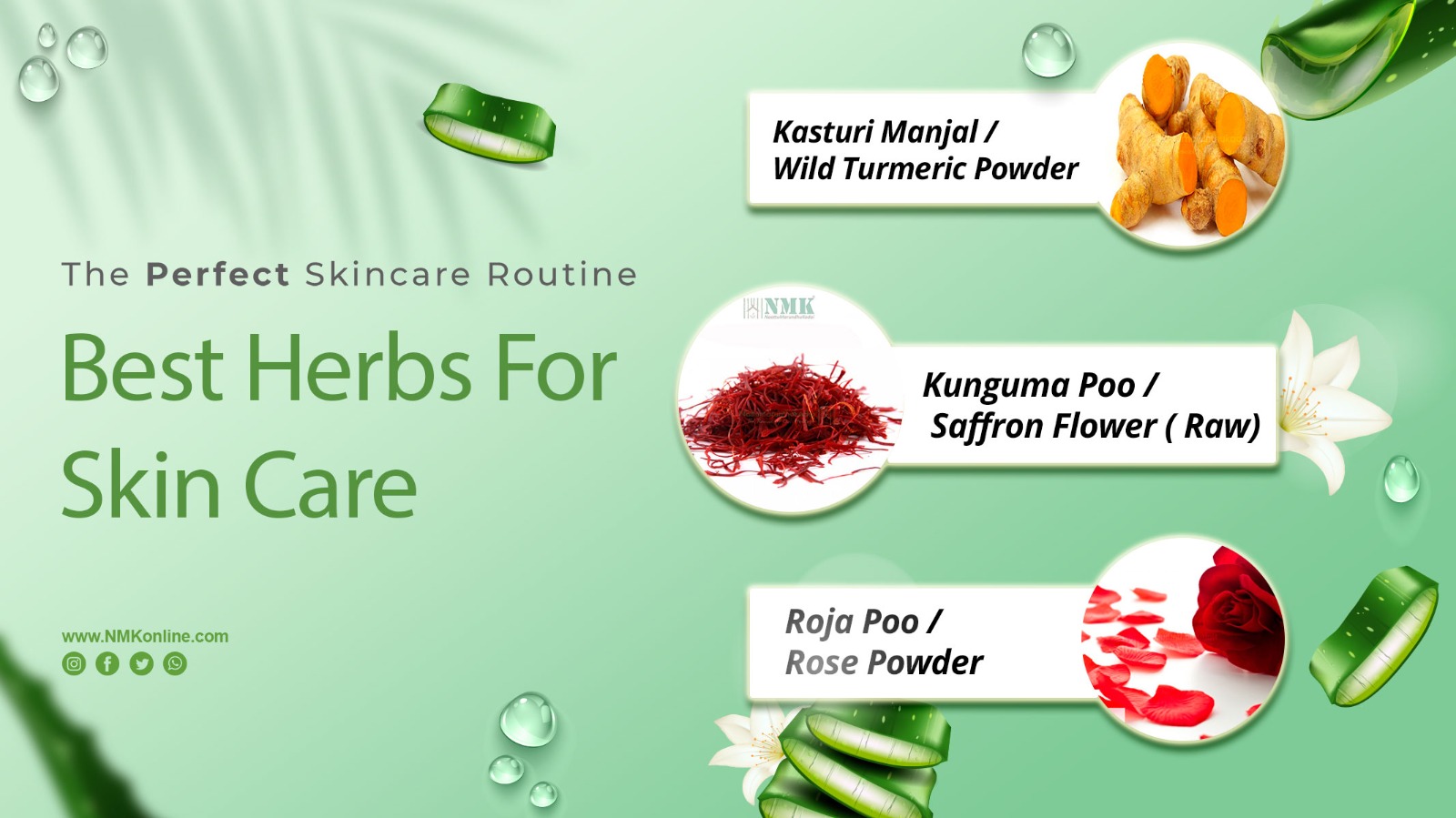 Our Video
Herbal skincare products come in a wider variety of cream, lotion, and oils. With NMKonline, you can get a wide range of herbal skincare items.
Skincare is the process of taking care of the largest organ in the human body, the skin. In order to preserve the skin's health and look, skincare encompasses a variety of procedures, such as washing, moisturizing, protecting, and treating the skin.
Herbs used in skincare products are made from plants naturally and are used to enhance the health and appearance of the skin. These plants have been proven to offer a number of advantageous qualities for the skin and have been utilized for ages in traditional medicine and skincare procedures all over the world.
Here are some of the greatest herbs for skincare, however there are many.
1. Aloe vera (SothuKatralai) : This is well renowned for its calming and restorative qualities. Many skin disorders, including acne, sunburns, and dry skin, can be treated with it. Use the aloe Vera leaf's gel straight to the area that needs treatment.
2. Multani mitti: Multani mitti's cooling action on the skin aids in the fight against sun damage and dark under-eye circles. It evens out skin tone, combats tanning and pigmentation, and works well to treat infections, rashes, and infections of the skin.
3. Rose Flower: Vitamins E and C, two of the greatest vitamins for promoting good skin, are found in rose flowers. Rose is excellent for all skin types, but it is especially good for dry skin because of how deeply hydrating it is. Rose essential oils effectively hydrate skin and stop moisture loss. Roses shield the skin from UV rays because of their moisturising qualities, which also prevent wrinkles from forming.
4. Orange peels: For acne-prone skin, orange peels make an excellent skincare ingredient. They contain important minerals like calcium, potassium, and magnesium that support a smooth, young appearance.
5. Red Sandal (Sivappu Chandanam) : It facilitates the growth of collagen and fresh skin cells. As a result, it supports wound healing. Because of its antibacterial qualities, it also reduces the possibility of infection at the wound site.
6. Chamomile: A relaxing herb, chamomile is frequently used in skincare products to calm and relieve inflammation.
7. Calendula: This herb's anti-inflammatory properties make it a fantastic choice for calming and mending sensitive skin. It can be applied as an oil, salve, or bath additive.
8. Green Gram : Using pachai payaru topically is a fantastic technique to relieve dry skin and replenish moisture that has been lost. It contains a wealth of enzymes and vitamins that help the skin retain moisture.
9. Kungumathi thylam: Possible Use of Kungumadi Tailam in the Treatment of Hyperpigmentation. Kungumadi tailam may have antioxidant, anti-inflammatory, and anti-hyperpigmentation effects. Moreover, the formulation may have anti-aging, skin hydration, anti-wrinkle, moisturizing, and potential skin texture enhancement advantages.
10. Poolankilangu: White turmeric for skin heals all skin issues, including acne, because of its potent antibacterial characteristics. To address all of your skin issues, you can use it as a face mask or bath powder.
You can either use these herbs to create your own skincare products or search for skincare products that contain them by going to "NMKonline Skin care Link"